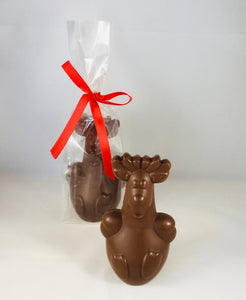 Meet "Magic" our handmade semi-solid (part solid, part hollow) reindeer.  Magic is made out of pure milk chocolate and sure to make anyone smile.  4.9 inches tall and 3 inches wide.
Net weight: 4 oz
Ingredients
Milk chocolate (cane sugar, full cream milk, cocoa butter, cacao beans, emulsifier: sunflower lecithin and vanilla beans).
Contains MILK.  Non-GMO.  
This food is made in a home kitchen and is not inspected by the Department of State Health Services or a local health department.